Post 95 / The Next Language
June 21, 2022
Scarlet Chested Sun Bird
Arise, shine; for thy light is come, and the glory of the LORD is risen upon thee. For, behold, the darkness shall cover the earth, and gross darkness the people: but the LORD shall arise upon thee, and his glory shall be seen upon thee. And the Gentiles shall come to thy light, and kings to the brightness of thy rising. [Isa 60:1-3 KJV]
The night is far spent, the day is at hand: let us therefore cast off the works of darkness, and let us put on the armour of light. [Rom 13:12 KJV]
For God, who commanded the light to shine out of darkness, hath shined in our hearts, to [give] the light of the knowledge of the glory of God in the face of Jesus Christ. [2Co 4:6 KJV]
For ye were sometimes darkness, but now [are ye] light in the Lord: walk as children of light: … Wherefore he saith, Awake thou that sleepest, and arise from the dead, and Christ shall give thee light. [Eph 5:8, 14 KJV]
I have observed that the predawn is when God's creation displays sound and sight that is stunning and unique every morning.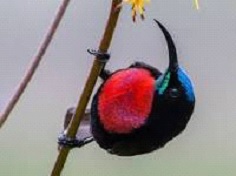 One of my favorite birds that I met one such morning is the Scarlet Chested Sun Bird — a little larger than a barn swallow. In anticipation of a breakfast of nectar this guy splays his crimson chest for all to see and then blasts an iridescent green flash from his head in the first rays of sunlight that is so quick that I needed to watch this several times before I knew it was real. Whether from eyes or cape this dazzling use of sunlight is a graphic example of God's creative glory.
We are to be the light of the world but that can only happen when we ourselves are in the light. What God does with His image in us should be a splendor that exceeds expectation or what would be natural.
Could the Scarlet Chested Sun Bird be telling us that we should be prominently and permanently displaying the blood and the cross to an observant world?
Could those flashes of brilliance be the more infrequent but progressive work of a transformed mind in gear with the Holy Spirit? Could they be reminders that there is a crown to come… though not publicly prominent from today's perspective?
I beseech you therefore, brethren, by the mercies of God, that ye present your bodies a living sacrifice, holy, acceptable unto God, [which is] your reasonable service. And be not conformed to this world: but be ye transformed by the renewing of your mind, that ye may prove what [is] that good, and acceptable, and perfect, will of God. [Rom 12:1-2 KJV]
The iridescent influence of direct contact with God was so evident on Moses that he had to cover his face with a veil. Even Jesus while in prayer displayed a "change of countenance."
The rareness of these incidents suggest that this is not the permanent state that God intended when dealing with humans, but, speaks of better things to come.
But, the invitation of those exceptions and the daily example of the Sun Bird and God's own Word might be inviting us to live a little more in the realm of glory and light.
God Bless,
Larry DeVilbiss | Executive Director
Global Recordings Network USA
If you are interested in learning how to share links on social media that will promote use of our recordings and the Gospel in general, please contact RolandHeck@GlobalRecordings.Net
Previous "The Next Language" posts