July 16, 2019
The Next Language, Post 2
Last week was somewhat historic in GRN Brazil's timeline.  In addition to the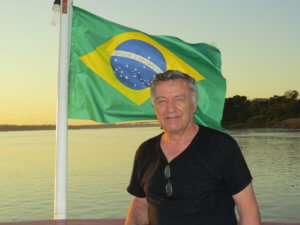 advanced training that is happening I asked to meet with the Gravacoes Brasil Board of Directors.  I wanted to cover three points with them: GR's History in Brazil, Unrecorded Languages, and Future Collaboration.
It was an interesting interchange as for the first time the Board became aware that there had been another Board in Brazil (which may still exist).  Recordist Eipeen Huang instituted the present Board and I am in the process of contacting Sam and Suely Brennan and David Williams to see what may remain of Boas Novas Brasil from the early days of Gospel Recordings' work in Brazil.
If there is any remnant of this former Board they may help us to combine resources and manpower from the more populous and affluent eastern part of the nation.
After rehearsing the over 80 still unrecorded languages in Brazil, I went on to ask the  Gravacoes Brasil Board to pray about an extended relationship to the work here in South America and the world for that matter.
Since we have four Spanish speaking recordists (and another initiate) who are working in other countries in South America that currently have no legal affiliation with any GRN center, my suggestions were three-fold:
that Gravacoes Brasil consider taking supervision of those recordists;
that they consider collaborating with training new recordists by taking them alongside their current recording activities; and
that they consider the possibility of becoming a sending agency to be involved in training and recording in other parts of the world.
This all provoked a lengthy discussion after my time with the Gravacoes Brasil Board and the simple statement that "these are big changes and big responsibilities that we need to pray seriously about."  Let's pray with them.
God Bless,
Larry DeVilbiss | Executive Director
Global Recordings Network USA