Are you wanting to serve the Lord?
We look for the following in both home and field candidates: you are a committed follower of Jesus Christ with a regular devotional life grounded in closeness to Him. You belong to a Bible-believing local church and share the Lord and His Good News whenever possible. You are teachable, with a servant heart and a strong sense of the Lord's calling to the ministry of Global Recordings Network. Might that be you?
Field workers go, find and verify every language that does not have the Story of Jesus and record that story, and "capture that language" in a set of Bible-based stories. The mission commits to provide equipment, training, and travel expenses. As a field worker you must trust God to provide bread and butter and everything else desired.
Home-based workers support the field work in a variety of ways. You may come to Tucson or you may work from your current home, but you would also need to be committed to the vision of GRN: Telling the Story of Jesus in Every Language!
The work done by this ministry is a team project and includes a wide variety of assignments, some less glamorous than others, but all equally important! Abilities, health and a sense of God's calling are seriously considered when assignments are made. Each worker must be willing to put the priorities of the Mission ahead of one's own personal ambitions. The following list shows the various aspects of work involved:
Executive Director's office: Provides spiritual leadership, vision and direction for the work, identifies goals and sets priorities.
Finance office: Handles the receipting, banking and accounts payable relating to ministry expenses, as well as staff support checks. Manages the insurance, taxes and financial reports.
Personnel: Manages general Human Resources responsibilities.
Reception: Coordinates telephone communications, greets visitors, and handles secretarial assignments.
Field administration: Oversees the field activities that relate to Gospel Recordings' priorities and goals; screens and trains potential field staff; aims to meet the personal and spiritual needs of workers; gives all-around direction and encouragement.
Field recordists: Go to un-evangelized areas to record gospel messages in foreign languages and dialects.
Field base operators: Operates field bases, duplicate cassettes and contact missionaries about using Gospel Recordings' materials.
Distribution: Seeks to find effective outlets for the distribution of cassettes and players; contacts missionaries and shares ways they and Gospel Recordings can work together.
Mobilization: Shares the vision for the ministry with churches and individuals across the U.S., giving Christians opportunities to be a part of this ministry through prayer, service and giving.
Publications: Produces newsletters and prayer letters to keep our mailing list informed of how God is using the work; creates brochures, ads, displays and other materials to inform; and designs our web pages.
Language tracking: Catalogs newly received recordings from the field. Assists field personnel in identifying where groups of unreached peoples are, and provides vital language data.
Order department: Processes orders for ministry materials. Corresponds with missionaries on matters relating to their orders as well as the use of Gospel Recordings' players.
Shipping: Packs and ships the materials being sent.
IT:  Provides programming services and maintains computers and systems.
Electronics: Maintains and repairs audio equipment, office machines and tape players; researches and develops new types of hand wind cassette players.
Studio Dep't: Digitizes recordings; processes new recordings from the field; transferring information from the thousands of old recordings into the data base management system
Production: Prepares media masters for home and field use. Duplicates recordings on various media for distribution
Facilities Management: Oversees and coordinates all work related to upkeep and functioning of the buildings and grounds. Manages contracts and inspections, etc.
Housing/Hospitality: Coordinates housing for staff and guests.
Positions may be filled by those who apply to join us as career missionaries, associate missionaries, volunteers, or interns. Career missionaries and interns trust God for their finances for living, whether you raise personal support by sharing your  story with friends and churches, or you look to the Lord alone without asking others for support. Those who do not need extra income may apply as associate staff or volunteers. Positions are available in the GRN USA office in Tucson, Arizona; around the world wherever language scouts and field recordists are needed; and, increasingly, for volunteers who work from their homes around the country.
Some of the positions that are open right now include:
For more information or answers to specific questions, please contact the Tucson office at 520-395-1399 or toll-free (in the US only) 888-444-7872.
Video of recording in Colombia.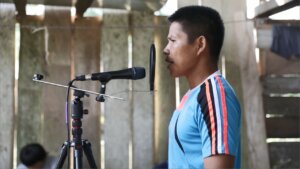 Video story from our former Australian director in his early years in east Africa: "The Word of Life"