Beginning With Joy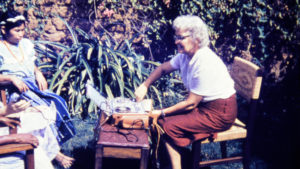 The ministry of Global Recordings Network, initially known as Gospel Recordings, was founded in Los Angeles in 1939. Joy Ridderhof was very ill after returning from her time as a missionary in Honduras. She felt a deep sense of disappointment and sorrow at having to leave her beloved converts behind, people who in many cases were unable to read or write and thus relied on a verbal message to introduce them to Christ.
If only she could have left behind recorded messages in their native Spanish to continue to nourish their newfound faith!
Thanks to several friends' generosity, this vision began to come to fruition as she recorded the first gospel record in Spanish at the end of 1939. Requests for more records started trickling in from Honduras and soon after, requests came flooding in from Honduras and other Spanish-speaking countries in Central and South America, as well.
A turning point came in 1940 when Joy was asked to make gospel recordings for the Navajo Indians in Arizona. An archive of audio materials, now in multiple languages, was beginning to grow. Each additional language recorded would lead to requests for more languages to be served. She continued to respond, fulfilling the call to take the gospel to the ends of the earth.
When Joy's health recovered, she and others with her began traveling the world and producing recordings in small, isolated areas as well as larger communities. As they traveled, Joy and her fellow missionaries encouraged believers in other countries to raise up similar ministries for groups of people who learned almost exclusively through oral communications.
This paved the way for the global Church and mission community to recognize the growing need for oral cultures to have Christian materials they could hear, rather than read.
Growing With Grace
Within a couple of decades, inspired by Joy's example, several dozen independent, like-minded ministries operated throughout the world, continuing to produce audio recordings of Bible stories.
Eventually this loose alliance of ministries with similar evangelism visions began to increase their collaborations. Led by the original USA office and another large ministry based in Australia, the alliance formally coalesced in the early 1990s and formed Global Recordings Network.
With this merge, Global Recordings Network expanded its ministry reach and solidified themselves within the mission community as the preeminent leader in understanding languages and dialects. Today, international ministries all around the world depend on the resources and expertise of Global Recordings Network to fulfill their missions and enhance their evangelistic and discipleship efforts.
To learn more about our partners and the important role they have in expanding the reach of our ministry, please follow this link.