August 6, 2019
The Next Language, Post 4
This was shared with the training team in Brazil in the photo below . . .
Hebrews- God's Gift to second generation believers
The book of Hebrews is a template for challenging second generation Christians.  It is generally accepted that the book was written to Hebrew Christians shortly before the destruction of Jerusalem- probably by Paul.  Some think he didn't write it because its style is so different from Romans.  To me that is proof of Paul's authorship. The genius in using the Hebrew discourse style and worldview convinces me that Paul was showing how to be all things to all men, by fine tuning a message to a specific culture and its values.
The Hebrew Christians under persecution were considering going back to their traditional Judaic culture.  They were poised on the edge of the wilderness at Kadesh Barnea (as pictured in chapters three and four), considering whether to move by obedient faith into the promised land of rest by faith in the once for all finished work of Christ and fruitful productivity with other believers or draw back and die going in circles in the wilderness.  This is not the difference between being saved or lost, but the contrast between victorious reality and mundane mediocrity.
Hebrews,by strong warnings, recalls Jewish history and ritual to show the danger of shallow hearing, drifting, unbelief, perpetual immaturity, and outright "drawing back."
It doesn't take much imagination to understand how persecuted second generation Christians in Jerusalem could be attracted to the comfort of routine temple sacrifices and ceremonies.
These dynamics exist in current cultures where a milk toast Christianity has been introduced that denies the power of God.  Years ago I told the Chukchi in Siberia how second generation Christians in Eskimo cultures in Alaska long for the days when they saw the shaman spin like a top and disappear into the ground.  The Chukchi told me that was nothing.  They had recently, in the very room we were sitting in, seen a shaman summon the spirit of a dead man that was in the coffin and the dead man sat up and spoke. These are very powerful and attractive realities to second generation believers who might be wavering like those at Kadesh Barnea.
I related to the Chukchi stories of converted shaman I had known in South America (now on my blog-  Animist Bridges for Christ).  I videotaped many of those testimonies of the converted shaman themselves.  Those testimonies fit the Hebrews template by creating a culturally relevant answer to the desire of future generations to go back.
I believe that Paul would have studiously dug out cultural pre-Christian testimonials to the goodness, preserving grace, and manifestations of God in those cultures.  I believe Melchizedek (a story from Genesis which Hebrews recalls) was exactly that.  Christ is compared over 30 times to Jewish tradition and was deemed "better."  Jesus was declared to be "after the order of Melchizedek," rather than being called "better."  I believe Melchizedek was Jesus.  I further believe God in His faithfulness has shown himself in some manner to all cultures.  For example, the well-known Eskimo, Maniilaq, prophesied that "white men" would come bringing a book, and they called the higher power both "Father" and "Son."  All this was long before European explorers arrived.
We are prone to discard a lot of divine evidence as part of a demonic culture instead of weaving it into the redemption story as Paul did.  In another article I show how Paul did that in Athens in Acts 17. Paul to the Gentiles in Athens.
It is no coincidence that after bluntly urging the Hebrews to "labor to enter into rest" he describes our weapon or means of power- "for the Word of God is quick and powerful…"
Hebrews 4:11-16: "Let us labor therefore to enter into that rest, lest any man fall after the same example of unbelief.  For the word of God is quick, and powerful, and sharper than any two edged sword, piercing even to the dividing asunder of soul and spirit, and of the joints and marrow, and is a discern-er of the thoughts and intents of the heart.  Neither is there any creature that is not manifest in his sight: but all things are naked and opened unto the eyes of him with whom we have to do.  Seeing then that we have a great high priest, that is passed into the heavens, Jesus the Son of God, let us hold fast our profession.  For we have not an high priest which cannot be touched with the feelings of our infirmities; but was in all points tempted like as we are, yet without sin.  Let us therefore come boldly unto the throne of grace that we may obtain mercy, and find grace to help in time of need."
God Bless,
Larry DeVilbiss | Executive Director
Global Recordings Network USA
---
Meet the South American Team.
I thought it appropriate to introduce you to the team with whom I've been getting advanced recordist training for most of the month of July in Porto Velho, Brazil.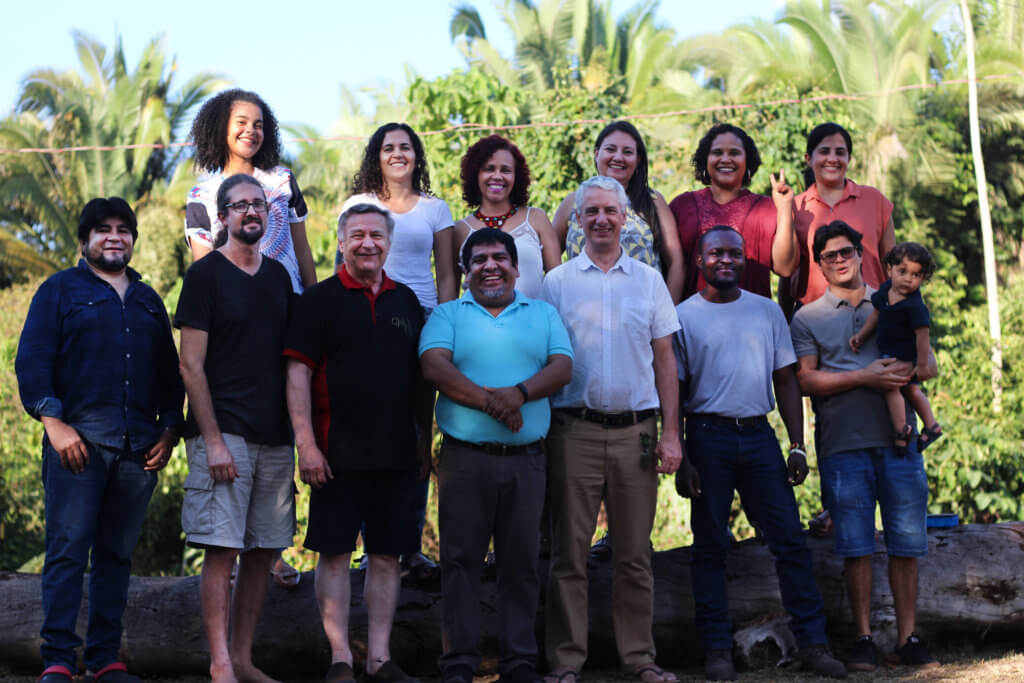 Standing on top of the log, left to right:
Karine da Costa Mendes –Brazilian, trainee recordist; Rosangela da Silva Santos – Brazilian, applicant, trainee recordist; Dionara Castilhos Pires – Brazilian, Assistant Director of GRN-Brazil, recordist; Innes Guillen de Calixto – Mexican, trainee recordist assigned to Ecuador; Graciete Mota Lima – Brazilian, Director of GRN-Brazil, course hostess, senior recordist; Fernanda Amaral Mattos Dias – Brazilian, senior recordist
Standing on the ground, left to right:
Eduardo Zamorano – Argentinian, recordist assigned to Peru; Emanuel – Swedish, YWAM translator; Larry DeVilbiss – American, Director of GRN-USA, recordist trainer; Gustavo Calixto Corona – Mexican, recordist, training assistant assigned to Ecuador; Noel Bachelor – Australian, recordist training supervisor; James Shikuku Inyama – Kenyan, assistant recordist/ training assistant; Thiago Rodrigues Dias – Brazilian, recordist (with his son Pedro).
Previous "The Next Language" posts