July 24, 2019
The Next Language, Post 3
Aside from normal recordist training classes during this month of July, we were called on to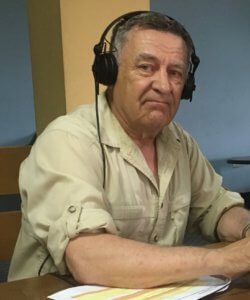 minister at local events here in Porto Velho, Brazil.
Additionally, the annual Youth With a Mission (YWAM) Youth Adventure program was on the same campus we are living on and I was asked to share with them about "Proclamation" on the closing evening.
That was easy to do because we are proclaiming the story of Jesus in over 6,000 languages.  These students learned how to do that on their own cell phones. They also learned that we are looking for another minimum of 80 recordists to finish recording the last approximately 3000 languages.
Sunday night Gustavo was asked to close the mission conference that has been going on here in the Presbyterian Church, pastored by our Brazil Board president.
During our off time yesterday Noel shared a DVD that recapped the moon landing 50 years ago.  I had not known that the town of Parkes in New South Wales, Australia, played an important role in relaying the TV coverage of that event for the whole world.
About half way through that documentary I realized that I had never seen the TV coverage of that landing because I was deep in the jungles here in Brazil with no access to that coverage and don't remember even hearing about it.
Also at that time the tribes of Brazil were a world away from even thinking about walking on the moon.  Many still are.  Gracie (the Director of Gravacoes Brasil) has promised that this coming week she will report on the 40 unrecorded languages that I brought on a list from our database.
God Bless,
Larry DeVilbiss | Executive Director
Global Recordings Network USA
---
Previous "The Next Language" posts
Listen and watch as Larry tells recordist trainees in Brazil (through translation) about his experiences as a recordist in the past and present.