Post 120 / The Next Language
December 13, 2022
Flying Ants
[Pro 6:6 KJV] 6 Go to the ant, thou sluggard; consider her ways, and be wise:
[Pro 30:25 KJV] 25 The ants [are] a people not strong, yet they prepare their meat in the summer;
On the island of Java this is the season of flying ants. In the evenings after rains the ants appear in great numbers and swarm around the lights.
Since science tells us they are the most numerous species and insect on the face of the earth, and since the Scriptures refer to the ants as being instructive, what can we learn from them?
Before our eyes the ants mill around and sometimes successfully evade geckos (small lizards) that are eagerly waiting to chase them down and eat them. It is evident that the wings were not made for very much permanence. Soon wings are all over the floor and dead ants are there as well. The photo shows a little of the carnage.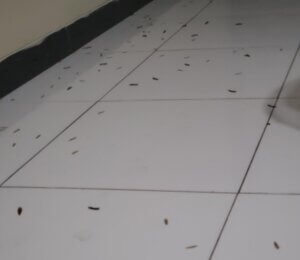 What we are told is happening is this. Periodically, when the conditions are right, an ant colony will create larvae with wings. These are not for anything such as the sustenance of the colony of origin, but simply for the purpose of flying away in what is called nuptial flight to eventually start a completely new colony. A colony can survive for thirty years with the same queen, but these flying ants are created for the purpose of propagating the species elsewhere.
On the nuptial flight they fly away, never to return; but hopefully to reproduce not just ants (that happens in the colony all the time) but to duplicate colonies. Judging from the numbers and the casualties, it looks like very few of them succeed.
On this nuptial flight the male and female mate and the male shortly dies. The female chews off her wings and looks for a place to lay eggs and begin the new colony.
Isn't this a picture of what a successful church should be doing? A successful church will be evangelizing and discipling but a good church will also be sending out missionaries who completely leave the neighborhood and even the country, not only to evangelize and disciple elsewhere, but to give their lives to plant churches. This is a Kingdom pattern and one which the Lord invited us to pray for. When He told us to pray that the Lord of the harvest would send forth laborers, He was suggesting that some of us will be equipped with wings to fly far and to be productive. So be it.
[Isa 6:8 KJV] 8 Also I heard the voice of the Lord, saying, Whom shall I send, and who will go for us? Then said I, Here [am] I; send me.
God Bless,
Larry DeVilbiss

Global Recordings Network USA
If you are interested in learning how to share links on social media that will promote use of our recordings and the Gospel in general, please contact RolandHeck@GlobalRecordings.Net
Previous "The Next Language" posts