Post 105 / The Next Language
August 30, 2022
The Mountain Taker
"Then the children of Judah came unto Joshua in Gilgal: and Caleb the son of Jephunneh the Kenezite said unto him, Thou knowest the thing that the LORD said unto Moses the man of God concerning me and thee in Kadeshbarnea. Forty years old was I when Moses the servant of the LORD sent me from Kadeshbarnea to espy out the land; and I brought him word again as it was in mine heart. Nevertheless my brethren that went up with me made the heart of the people melt: but I wholly followed the LORD my God. And Moses sware on that day, saying, Surely the land whereon thy feet have trodden shall be thine inheritance, and thy children's for ever, because thou hast wholly followed the LORD my God. And now, behold, the LORD hath kept me alive, as he said, these forty and five years, even since the LORD spake this word unto Moses, while the children of Israel wandered in the wilderness: and now, lo, I am this day fourscore and five years old. As yet I am as strong this day as I was in the day that Moses sent me: as my strength was then, even so is my strength now, for war, both to go out, and to come in. Now therefore give me this mountain, whereof the LORD spake in that day; for thou heardest in that day how the Anakims were there, and that the cities were great and fenced: if so be the LORD will be with me, then I shall be able to drive them out, as the LORD said. And Joshua blessed him, and gave unto Caleb the son of Jephunneh Hebron for an inheritance. Hebron therefore became the inheritance of Caleb the son of Jephunneh the Kenezite unto this day, because that he wholly followed the LORD God of Israel. And the name of Hebron before was Kirjatharba; which Arba was a great man among the Anakims. And the land had rest from war." [Jos 14:6-15 KJV]
Caleb is the only man in the Bible of whom it is said, "he wholly followed the Lord God of Israel." Not once but five times this unique statement is made about him and no one else. Over the years I have thought a lot about the mindset and actions of both Caleb and Joshua who chose to believe God against the odds and against the majority of their unbelieving brothers when it came time to claim the promised land. Instead of a time of obedient entrance and victory it became infamous as the "provocation" ("Harden not your hearts, as in the provocation, in the day of temptation in the wilderness." [Heb 3:8 KJV]).
The heart of fear and disobedience on the part of the children of Israel (standing at the entrance to the land) was the report of walled cities and giants. Kiriathbarba was one of those cities. The name means "city of Arba"- the largest of the giants.
Imagine the courage of Caleb to try to reason with the fearful and unbelieving Israelites in the wilderness. "And Caleb stilled the people before Moses, and said, Let us go up at once, and possess it; for we are well able to overcome it." [Num 13:30 KJV]
Forty five years later Caleb appeals to his colleague Joshua to be allotted the very heart of the land of the giants with both the walls and the giants who were actually named by the twelve spies. ("And they ascended by the south, and came unto Hebron; where Ahiman, Sheshai, and Talmai, the children of Anak, were." [Num 13:22, 30 KJV])
That spunk of Caleb was honored and blessed by God. Caleb was one of only two that survived the wilderness judgment. But he not only survived but claimed and won the homeland of the giants.
I will shamelessly emulate that spirit. A spirit of wholly obeying the command of God to go to every nation. Christ has given us a command and a promise that will not be realized without fearless and persistent obedience.
I have been publicly accused of being impatient. I'm sure Caleb must have heard something similar from the ten spies who disagreed with him about claiming the promise. You can almost hear the scorn of the brothers of David when he challenged the giant Goliath and the unbelieving cowardice of the men of Israel. They told him to go home and if the Bible were published I'm sure they would have told him to "wait on the Lord." Patience is no virtue when it is a substitute for obedience.
One of the most insidious criticisms is that we are just recording languages to run up the language count. That is a judgment against personal motivation which is hard to prove but even if it were true, is that worse than doing nothing? Joy and Ann openly chalked up hundreds of languages and were criticized for only recording a few Bible stories. I recently heard from one of those languages in Afghanistan that only had a little over five minutes of the Gospel on 5fish. The man wanted to know if we could record some more — I think he was offering to help. If it weren't for that five minutes he would never have heard anything nor wanted more.
I was mocked for leaving a language in Mexico with only John 3:16 recorded. That was not as planned or desired, nor is that language "finished," but no one is telling me to eliminate that lifeline.
A little over four hundred years before Caleb was granted Hebron, Abraham had built one of his altars there. See my blog on altars. He buried Sarah there and spent his last days there before being interred himself. Hebron was hugely significant to Israel wholly entering, possessing, and receiving the promised rest in the land. No wonder Hebron housed the largest giants. Only after Hebron was conquered was there "rest in the land."
My mountain is different from Caleb's, but it too is rooted in promise and command. I have no exclusive claims or rights to my mountain as did Caleb, but I am not alone. I am in a community and a mission that claims "every language." Caleb outlived Joshua and personally commanded the conquest of Hebron, but he also bartered his daughter for the conquest of one of the towns in his "mountain." How "wholly" are we willing to follow God to the top of the mountain?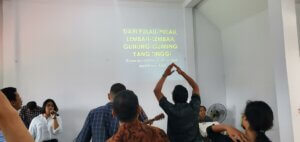 Words to "The Mountain Song" sung in Indonesian church services:
My Lord is Mighty with Power, the whole earth bows down
In worship Exalt Your Name.
I long every time to live for Your Truth
Not by my might, but by Your Spirit
Jesus, You're the One I hold on to,
Sovereign of My Life — I surrender All.
From North to South, hear Praises for God
From West to East, name of Jesus lifted high.
From Islands, Valleys, High Mountains.
His glory is witnessed, His greatness is proclaimed.
The Name of Jesus is exalted high.
From Islands, Valleys, High Mountains.
God Bless,
Larry DeVilbiss | Executive Director
Global Recordings Network USA
If you are interested in learning how to share links on social media that will promote use of our recordings and the Gospel in general, please contact RolandHeck@GlobalRecordings.Net
Previous "The Next Language" posts