Post 97 / The Next Language
July 5, 2022
Berom
The Berom (sometimes also spelt as Birom) is the largest autochthonous ethnic group in Plateau State, central Nigeria. Covering about four local government areas, which include Jos North, Jos South, Barkin Ladi (Gwol) and Riyom, Berom are also found in some southern Kaduna State local government areas. (Wikipedia)
The Berom speak the Berom language, which belongs to the Plateau branch of Benue–Congo, a subfamily of the large Niger–Congo language family. It is not related to the Hausa language (which belongs to the Afro-Asiatic family) or other Afro-Asiatic languages of Plateau State, which are Chadic languages. (Source: Wikipedia)
Berom shows up on our GRN language map as two recorded languages and thirteen unrecorded language varieties. All of these are categorized under a single ISO (International Standards Organization) code of BOM. Note the neighboring languages on the map below. Green languages are recorded and red ones are unrecorded.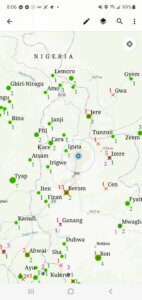 Center Leader Kish told me more than once that they had always considered Berom a single language. He was amazed at the results from our language investigators who have now visited all 15 languages (all listed under the BOM code) and returned with recorded word lists.
It was amazing to hear day after day as the investigators returned with reports of mostly successful contacts in the villages. Successful contacts with church leaders and even with a regional king. (Each language jurisdiction has its own king.) They got contacts for the original language helper who worked with Kathy Hoffmeyer and Ann Sherwood in 1964. That language helper is now on an important translation committee over all the Berom language varieties.
Our investigators reported only once being detained for a shakedown as they fanned out across the countryside on the back of motorcycle taxis. So far their official ID cards have been satisfactory for officialdom.
As the stories of origins and audio linguistic data were collected it was clear that many names were inappropriate for the people or their language. Laying the word lists side by side across all varieties, it was clear that at least two should not even be in the same language family. Other investigations suggest a second language variety that had not even been anticipated by our language tracking sleuths back in USA.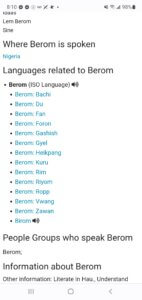 As the data from this list of languages is digested and contacts are pursued, please pray that the appropriate scripts and language helpers will come together to create a presentation of the Gospel to these people who numbers well over 1,000,000 speakers. You can see on the above chart from the GRN web page that is linked to the map that only two of them have any audio resources at this point. Many are requesting to use their own name for their language. There is a good chance that even more language varieties will show up as the investigation moves on to neighboring villages.
Please also pray for safety for all our workers in this land.
God Bless,
Larry DeVilbiss | Executive Director
Global Recordings Network USA
If you are interested in learning how to share links on social media that will promote use of our recordings and the Gospel in general, please contact RolandHeck@GlobalRecordings.Net
Previous "The Next Language" posts