Post 89 / The Next Language
May 10, 2022
Mixteco del Progreso
The call to the language of Mixteco del Progreso was in the form of a red dot on the Google Maps app for Mexico which indicated no recordings and no other Christian resources.
At first it looked like a slam dunk. In fact we were told that recording arrangements had already been made by Senior Recordist Chuy Tejeda. It was right on a major highway and adjacent to another Mixteco recorded language – Ocotepec: Cuquila. Furthermore there was an active church in Cuquila. And even more importantly an active participant in GRN outreaches lived with the Cuquila and was a Cuquila speaker and married to the daughter of one of the GRN board members. Marce Leon and his very pregnant wife hosted us several times as we went through the area to reach other languages.
On one of our first visits we went to follow up on the potential language helpers but they could not be found. Then later we were told that they would not work with us.
We were invited to have a service in the church of Marce. We presented the need to reach their Mixteco neighbors who we had learned actually speak a very distinct language variety. In a shared meal afterward we learned of the long history of trying to reach the Mixteco del Progreso.
On my last personal visit I was with Nathaniel and we had determined that we were not going to leave without recording that language. We soon realized that Marce's wife was within days of having their second child and it was not an appropriate time for us to be a burden to them. So we moved on but not until after spending a day on a construction project that was a virtual outreach to the Mixtecos del Progreso.
They had determined to provide all the labor and a lot of the material to make a restaurant for a handicapped lady of the Mixteco del Progreso who had been born without legs. Her name was Eusebia. We helped pour concrete pillars which were to frame this project of love and evangelism. Eusebia, who lived nearby (right on the highway), made a dinner for us all before the day was over.
When Stephen and Ana Pallot decided to try to record this language again in March they began with Eusebia. Here are Stephen's words.
Pastor Luis (Marce's uncle) introduced us to Eusebia (she is the lady who was born with a disability, to whom Marce witnessed). She was the only person who was willing to help us at first, and it was really challenging recording by the roadside!
The same day we went to visit Eusebia, we went to visit another sister, but she said she didn't know the language well enough. However, she was prepared to go with Ana and speak to the pastor who was in the church. At first, he told us that most of the speakers had left for the USA and he seemed quite reluctant to help. One other sister was quite upset too, but after Ana apologized for any past misunderstanding, the pastor agreed to come and talk to Luis and myself. Thereafter, the pastor was happy to assist.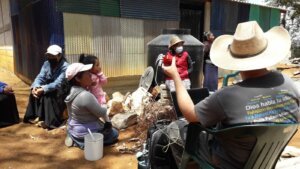 We started a recording with Eusebia the following day and managed to advance little by little. On that Sunday we went to the temple and the pastor allowed us to make an appeal for help with the recording. There were a couple of sisters who translated in the service and were very capable, but they declined to help. Finally a younger sister (Lizeth – 17yrs) agreed to help, but we had to wait until the following Wednesday.
On Wednesday we went to the early morning prayer meeting, after which we ate lunch, helped excavate sand and mix concrete. During a break I played the recording that Eusebia had done. The sisters listened intently and following that two more ladies offered to help.
We also managed to record a male voice, along with his testimony. At the end of our time there, all the people asked us when we were planning to return to do some more recording.
It seems that God used Eusebia's willingness to change the situation. Praise His name.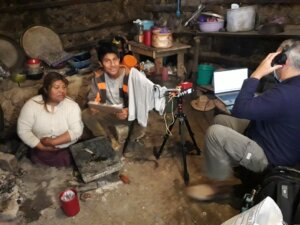 Here you can see a photo of Stephen actually recording and also the recording being played back.
We thank God for answered prayer and also the reminder that the call to "go" means to keep going and going and going until there is no further need to go.
God Bless,
Larry DeVilbiss | Executive Director
Global Recordings Network USA
If you are interested in learning how to share links on social media that will promote use of our recordings and the Gospel in general, please contact RolandHeck@GlobalRecordings.Net
Previous "The Next Language" posts