from April 2023 ALERT / from ALERT
New Seeds Planted
A Fair for the Nations
by Patti Ediger
Ask me and I will give you the nations for your inheritance (Psalm 2:8).
Imagine two large wedding tents bustling with representatives from every Christian mission you can think of, then double that for those you've yet to learn of. The reps chattered excitedly, setting up their colorful displays, banners, and flowing streamers. It was a fair, a joyous gathering of missionaries come to meet the next generation. A chance to pass the baton, educate, touch hearts with the Great Commission, and pass on the wonderful inheritance of taking Jesus Christ to the nations.
We were at Biola University for this Missions Fair. Our bright banner read "Sharing The Story of Jesus in over 6,500 languages! – 5fish – Global Recordings Network." Our table was spread with 5fish cards,  brochures, a Card Talk, Tumi Tiger, and other attractions. We were ready and excited to share the mission of GRN with the flood of eager students who would soon come bounding through the entrance.
And eager they were. The crowded aisles were visions of bright-eyed enthusiasm packaged in jeans, hoodies, and Nikes. However, what God soon showed me was His future army was right here in front of us,    asking, searching for His direction. Each with a story; each with a way  to use exactly the weapons (tools) we had brought along to arm them.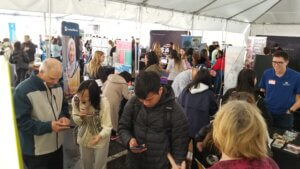 One student was a tiny bundle of questions from Indonesia. She started the conversation as many of the international students did. "I don't think you have MY language!" It was a pleasure to see her amazement as we brought up the language varieties we have from Indonesia and found her very own. "But do you have Mandarin?" She asked. She smiled when we opened 5fish to the plethora of resources in Mandarin. Her face softened and she told me of her grandparents who spoke nothing but Mandarin. Her grandmother had indicated an openness to Jesus, but she was unable to tell her grandmother about the Savior because she did not speak Mandarin. "I'm going back to Indonesia this summer. Now I will be able to tell my grandparents about Jesus."
Next a tall young man from India challenged 5fish to produce his language variety. Again, 5fish came through, showing teaching available in his heart language. He was so excited he beamed and threw his head back in amazement. I noted that there was much more that could be  recorded in his language and he leaned forward with enthusiasm.  "I know many dialects, and I would be happy to record for you."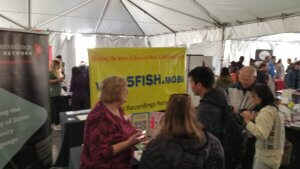 We exchanged contact information and look forward to even more people hearing the saving story of Jesus our Lord.
Some even approached the GRN table hesitantly as they had previously decided to join Frontiers, Send, or another wonderful mission. What a privilege to tell them that whatever mission they joined, and whatever country they went to, we have tools for them to use. It is our honor and privilege to assist them in their ministry. All hesitance fell away and so very many eagerly learned more about Global Recordings Network and downloaded 5fish, sharing it with friends who also came to hear.
May God bless those many who have gone before in the recording of languages from the people of the world that His name and salvation might be known. And may God bless these who now take the fruit of that work and carry His name to far off places in this and future generations. We give thanks to God for this precious opportunity and the divine appointments He provided.