from December 2022 ALERT / from ALERT
God Gives Most
We wish you a blessed Christmas season, from all the Global Recordings USA family. We anticipate this favorite holiday of so many, on which we remember the Incarnate Word coming to make sure the realities of Good Friday, Easter, and Pentecost.
As we think of gift giving during this season, we remember—it is God who gives the most of all! He gave His only Son so that we could enjoy all the blessings of peace with God through our Lord Jesus Christ. How can we thank Him? C.T. Studd founded WEC International and said, "If Jesus Christ be God and died for me, then no sacrifice can be too great for me to make for Him."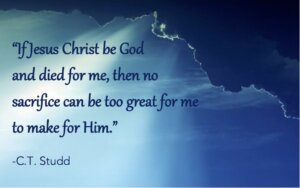 We have fairly weighty matters to lay before you in this year-end issue. To fit them all in, we've added a few pages.
We first want to tell each one of you how much we as a team appreciate your encouragement, your gifts, and your prayers. We truly are blessed to have you in our lives.
Next, we shine a spotlight on our USA Finance Team. They go largely un-sung but are truly crucial to what we do here in the USA to support the work of GRN around the world. Please pray especially for Joan and Shannon, who bear the load of the daily work of Finances. Do pray for new and gifted staff for this very important area.
Then, we want to announce a big development: Larry DeVilbiss is stepping aside as Executive Director, while retaining his overseas role. Stepping into the Executive    Director role is Dr. Skip Garmo (see p. 4). We also share with you about budget realities and how we are hoping to face the future. Along with this, we want to offer you the opportunity to partner with us to support specific recording projects. (See p. 5.) We expand these themes on pp. 6-7, with fuller introduction of our new Director, and additional ways you can get involved in our ministry.
We continue with updates from global recording "hotspots" and more from Larry in Indonesia. We conclude with a look at GRN, past and future.
Everything we do needs to be grounded in prayer, and we request your partnership in prayer for these matters which will affect the work of GRN for years to come. "Unless the Lord build the house, its builders labor in vain" (Ps. 127:1).
If you would like to see the entire ALERT online, click here.