from April 2023 ALERT / from ALERT
Director's Desk – April 2023
by Dr. Skip Garmo
April is one of this year's most special months! It is during April that we are seeing the newness of spring as sunshine and rain help plants give birth to new flowers and fresh greenery. It is also the month during which we particularly remember, ponder, and celebrate the redemptive work of Jesus Christ through His sacrificial death and miraculous resurrection. 2 Corinthians 5:17 reminds us that  "if anyone is in Christ, he is a new creation. The old has passed away; behold, the new has come."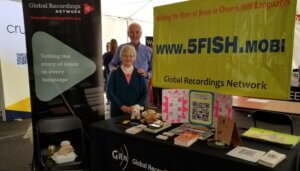 GRN USA is also thankful to celebrate new seeds planted during the recent missions conference at Biola University. As you read the articles herein from Patti Ediger and Roland Heck, you can see a new awareness of GRN ministry. Many attendees began to envision ways to use GRN tools. For some students and faculty, it involved downloading, exploring, and sharing our 5fish app with friends and relatives living in other countries. For others, it resulted in their offer to collaborate with GRN in one way or another.
Another cause of praise to our Father is the development of our Interactive Global Map. As Allan Starling explains so well, this new map is a   giant step forward from what has been available for mission leaders, translators, church planters, and evangelists around the world.
We prayerfully anticipate new spiritual births through the use of current and future GRN recordings by many mission agencies. Likewise, we prayerfully anticipate renewed spiritual hearts and minds. I am deeply encouraged and personally challenged by recent reports across the USA of revival—often in the hearts of young adults.
Renewal. Think of it. Alleluia!
Please continue praying for GRN USA as we advance into today's world with the story of God's love.