April 24, 2019
Invitation to an Open House, May 18, 2019
Come join us on Saturday, May 18, 2019, between the hours of 10:00 am and 4:00 pm for tours and presentations as we celebrate eighty years of our journey to tell the story of Jesus in over 6,400 languages so far.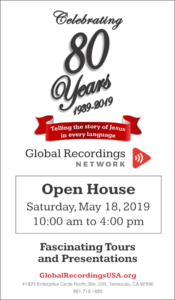 To get to the Global Recordings USA offices from Interstate 15, take the Winchester Road (Hwy 79) exit West to the third right, Enterprise Circle N. The Global Recordings building is the second building on the left and we are located on the second floor, Suite 200. As you come into the main entrance, take the elevator or stairs to the second floor.
Our address is:
41823 Enterprise Circle North, Temecula, California 92590
We hope to see you there.
If you have any questions, call us at 951.719.1650.