Blog 20 / Our High Calling
March 4, 2021
Don't Make Prayer Your Last Resort
"In every situation by prayer and petition with thanksgiving present your requests to God." Phil 4:6 (TNIV)
It is easy to have a "when all else fails, pray!" mentality. We may not actually say that, but it is often the case. We tend to act first then pray. However, God never intended for prayer to be a last resort. In fact, He wants it to be our first response to the everyday things we encounter, big or small.
The thought to pray first doesn't come naturally. It comes from cultivating a lifestyle of talking to God, not just in our devotional times, but throughout the day. Whether we are breathing silent prayers, praying out loud or uttering calls to God for help, talking to the Lord about everything should become as natural as breathing.
King David faced many difficulties in his life. Through them he had learned to inquire of the Lord.  So when confronted by the Amalekite army for example (1 Sam 30:8), he knew better than to look to his own wisdom, even though he was an experienced warrior. Instead he sought the Lord. The Lord showed him what to do. He obeyed and God gave him success in battle.
Along with prayer, praise too should be like a reflex action when surprised by trials. It should always be our first response. A trusting heart will always express itself by giving thanks to God for present troubles no matter how difficult they are.
If we first learn to commit everything that happens to us to God in prayer, we will save ourselves much wasted time and heartache. That beloved hymn "What a Friend we have in Jesus" says it so well:
"O what peace we often forfeit,
O what needless pain we bear,
All because we do not carry
Everything to God in prayer."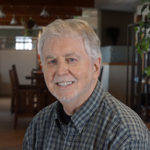 Colin Stott
GRN Global Prayer Coordinator