Blog 13 / Our High Calling
January 14, 2021
When We Pray for the Lost
All the nations You have made will come and worship before You O Lord; they will bring glory to Your Name. Ps 86:9/10  NIV
God's love for all peoples and nations is so fervent that He will not stop in His pursuit of them until they know of His love and display His glory in their lives. As we join our Lord in this divine pursuit, here are three things to keep in mind when we pray.
 There is no greater reason to pray for the lost than wanting to see God receive glory from the people that were created by Him and for Him. It should fill us with righteous indignation that millions for whom Christ died are bowing down before lifeless gods and worthless idols and giving to Satan allegiance that should go to God alone. Our main incentive in praying is that all the peoples God has made will come and worship before Him and bring glory to His Name.
Equally important when we pray for the lost is not just praying for their salvation, but asking that they would become true worshipers of God. Our Lord is seeking those who will worship Him in spirit and in truth. Salvation is essential because it takes care of our sin problem and gets us back into a right relationship with our Creator—but only so that we become worshipers of God and lovers of His dear Son.
When we pray for the lost, we should pray that they receive not just the light of the gospel but spiritual sight also. The colors of a sunset are of no benefit to blind eyes. Nor is a colorful garden on a dark night of benefit to a sighted person. Light and sight are both needed to appreciate color. A.W. Tozer reminds us that, "The Pharisees looked straight at the Light of the World for three years, but not one ray of light reached their inner beings." They were spiritually blind. Sinners need both light and sight.
All of this is to say that while we should be wholehearted in praying for people to turn to Christ, we must keep the ultimate purpose of evangelism in view. It is first and foremost about seeing God's heart satisfied as He is loved and glorified by people from every tribe and tongue and nation. It is all about Him!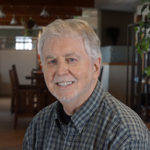 Colin Stott
GRN Global Prayer Coordinator