Blog 7 / Our High Calling
November 26, 2020
No Place Like Home
"How lovely is thy dwelling place, O Lord Almighty! My soul yearns, even faints, for the courts of the Lord" (Ps 84:1/2 NIV)
 Praying for the salvation of unreached people groups is an important part of GRN's work. God has a wonderful plan and destiny for all peoples. Most just don't know it yet. That is why we pray for them.
One such blessing that is theirs in Christ is found in Psalm 90:1 – "The Lord has been our dwelling place throughout all generations." The New Living Translation puts it this way: "You have been our home." To view the Lord as our home is a precious picture of our life in Christ.
Home is a shelter where we can retreat from the world and be protected and secure. It is a place where we can clean up, unwind, relax, rest and be fed. It is a place for loving relationships, a place where we have our closest support structure, a place where we are accepted and can be ourselves.
What we have in the physical arena is mirrored in the spiritual as we have all these things in God. He is our shelter, our refuge, He feeds us, and allows us to be real with Him. He cleans us up and is our most intimate Friend. Truly He is our dwelling place—the One in whom we can rest and abide.
At GRN we, along with the Church, are called to go to those people who are spiritually homeless – peoples who do not know that God longs to be their dwelling place. The Meyor of India, the Corubo of Brazil, the Raute of Nepal and countless others still need to discover how lovely is God's dwelling place.
What a surprise when they learn that, not only is God to be their dwelling place now, but He is preparing a mansion for them in Heaven too!
As we pray for the lost, let us ask for them to have such a hunger and longing for God that they would feel deep homesickness for the courts of the Lord. Until all have heard the good news, may we continue to pray and go and seek out the spiritually homeless to let them know that, in Christ, there is no place like home!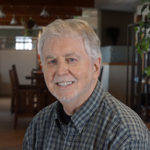 Colin Stott
GRN Global Prayer Coordinator