Blog 22 / Our High Calling
March 18, 2021
The Prayer Warrior
The Lord is a warrior, the Lord is His name. Exodus 15:3 NIV
Prayer warriors love Jesus and make time to pray for His will be done on earth as it is being done in heaven. As their prayer life deepens, prayer warriors realize that not only do they need to intercede for things in the visible world but God has given them weapons for battling evil forces in the unseen world of the heavenly realm.
Prayer warriors know that the victory Jesus won at Calvary totally disarmed the enemy. Satan is a defeated foe, even though for a season he still holds people captive using deception and lies to claim their allegiance. But God has given His people authority to overcome the enemy and even to trample over Satan's kingdom (Luke 10: 19).
Prayer warriors have been given spiritual weapons with divine power to demolish strongholds of the enemy. (See 2 Cor 10:4.) Prayer warriors know our struggle is not against flesh and blood, but against the rulers, against the authorities, against the powers of this dark world (Eph 6: 12). These are the spiritual forces of evil behind a world system that incites people to oppose and blaspheme a holy God.
Prayer warriors need to learn spiritual warfare and how to use their weapons, and the Lord is the One who trains them to fight (Ps 144:1). Our Lord has also equipped us with spiritual armor for our protection and has clothed us with garments of praise. Nothing demoralizes the enemy more than God's people singing their Lord's praises. Praying scripture is also an all-powerful weapon for prayer warriors to use in every battle.
Prayer warriors are needed to pray for the fulfillment of the great commission. At stake is not just the eternal destiny of men, women, and children, but that Christ receive the nations as His inheritance as promised Him by the Father (Ps 2:8). He is worthy of all their worship.
A prayer warrior might be weak in body but, if faithful in prayer, he or she will be feared in the heavenly realm. Because they have full access to the Throne Room of God, the enemy has every reason to fear their prayers. Most prayer warriors are unsung heroes because their intercession is often carried out in secret. But Heaven sees and hears!
A prayer warrior's calling to prayer is the end of a divine search for someone to stand in the gap (Ezek. 22:30) to pray for the purposes of God. This is not the calling of an elite few. It is the calling of all of God's people.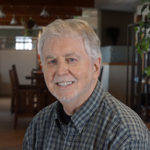 Colin Stott
GRN Global Prayer Coordinator