Blog 17 / Our High Calling
February 11, 2021
Lord, Break Me!
The sacrifices of God are a broken spirit; a broken and contrite heart, O God, you will not despise (Ps 51:17).
I have often thought that if I had only one prayer to pray it would simply be "Lord, break me." Here's why…
A friend once told me that he was praying that God would bless my life with more of His presence. I welcomed his prayer. Who wouldn't?  Most of us desire more of God in our lives. The truth is every one of us has as much of God as we want. But many of us lack a desire strong enough to do what it takes to make room for more of Him.
Here's the deal: for us to have more of God means there needs to be less of you and me. John the Baptist couldn't have made it clearer. "He must increase, I must decrease." Sounds simple enough but we cannot do this on our own. A battle is being waged for control of our lives. "For the flesh desires what is contrary to the Spirit, and the Spirit what is contrary to the flesh. They are in conflict with each other." (Gal 5:17 NIV) In this battle there must be only one outcome – our unconditional surrender to God.
But the flesh does not easily surrender to God and give up its control, nor does it want to. We need the Holy Spirit to break our attachment to the world. Only He can empower us to relinquish control of our life, bring death to self, and enable us to live a Spirit-controlled life. In bringing many sons to glory, God wants Jesus to be seen in His people. He is glorified when His Son looks good in us.
This is why "Lord, break me!" is such a vital prayer.
God wants us to be broken vessels. He wills nothing less for us than the full restoration of the image of His Son in us. Thus He needs to break us of everything that obscures His image—our defensiveness, our standing on our rights, our envyings, impatience and lusts, our anger that flares up when our will is crossed; our longing to be noticed and our love of human praise. The list in endless. And it is not just the things that are obviously bad that we need to die to. Even good things may need to be pared away as they can be the enemy of God's best for us.
Making it personal, my self-life is ugly, loathsome and rotten to the core, and God will not gloss over it. I must go the way of the Cross and allow Him to bring my self-life to the death. There is no other way. And if there is no way for the life of Christ to be seen in me other than by being broken and dying to self, then I need to sneak in another prayer, a critical one: "Lord, make me willing to pray, 'Lord, break me!'"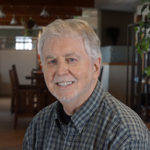 Colin Stott
GRN Global Prayer Coordinator