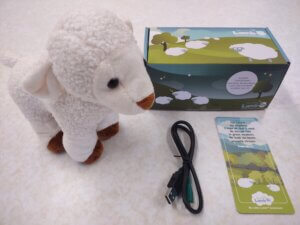 My Little Lamb is a stuffed animal audio Bible that plays Bible verses to give joy and comfort to little ones and help them sleep better.  Many children struggle with fear and anxiety at bedtime. My Little Lamb soothes them with the timeless truths of God's Word, assuring them that they can sleep safely and peacefully.
In addition to helping children sleep, listening to the Bible regularly stores it up in their hearts, so that when they are older, they will not depart from it (Ps. 119:11; Prov. 22:6).
Audio content includes 4 songs, 10 OT stories, and 79 Psalms, 21 chapters of John, 6 chapters of Ephesians, and 4 chapters of Philippians in the only copyright-free English Bible translation, the World English Bible. This product is only available in English, due to the limited availability.
Cute & cuddly
Adjustable volume
Fun & user friendly
Sturdy & waterproof buttons
Hypoallergenic
8-12 hours of use
Rechargeable
Auto shutdown after inactivity
Washable (remove audio player)
Ages 3+
$10.00 USD each – limited number available